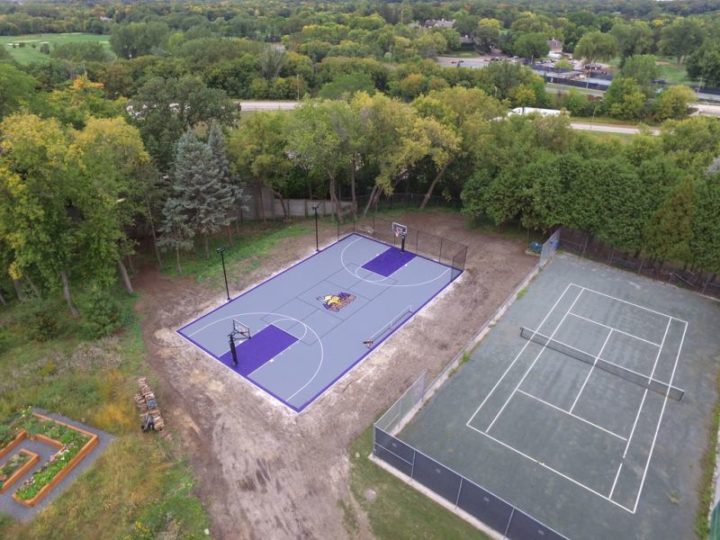 Introduction
So,  you're looking to get an outdoor or indoor court/home gym system. After a bit of Googling, you came across Sport Court North. Congratulations! Our exceptional customer service and sales team will provide you with the high-quality materials you need! To put you more at ease, this mini-list/guide will give you a general view of what to expect on the buying journey.
Consultation
Sport Court North provides free consultations. These can be done onsite or virtually in the midst of COVID-19. Free estimates are included in this appointment. Feel free to ask any questions during this time. We also have a free CourtBuilder on our site, so you can create the game court or home gym that says you!
Making Your Base
Our first step is to ensure that your outside game court or in-home gym will rest on a hard, flat surface. Outdoors, this could include leveling, moving sprinklers and outdoor furniture, and excavation via digging. Indoors this may include waterproofing flooring surfaces, strengthening flooring, or even just popping together our quality tiling in case you want a more temporary/mobile court. This is the moment when accessibility and personalization issues get addressed. 
Setting Up the Surface
You may see concrete, asphalt, crushed stone, and other hard materials being used for outside projects. Indoor projects can also be complicated, or as simple as binding agents, wood-like flooring, or cushioned tiles. We use high-quality materials no matter what that is competitive with eco-friendly industry standards. Our flooring materials also minimize allergens. We use the highest standards, safety, and levels of performance for every member of the family. All within the fraction of the time it takes the other guys.
Personalization Components
The first step of personalization that many think of is the paint color. But that is just the beginning! Your family can include any logo or words. This will make you feel even more like a team! Size and shape can also be individualized, within the confines of the property. Other items to help your home or game court standout? How about some rebounders, containment netting, lighting, or additional net systems to increase usage?
Wrap Up
At Sport Court North, our goal is to get your family having fun and making memories. We are so proud as a team to know that our legacy is doing just that, right here in Minnesota and Wisconsin. We cannot wait to get your home gym started as the seasons get colder, and we hope you keep us in mind when looking for a game court as the weather warms up! 
Citations
Sport Court official provider site
Posted in
Athletes
,
Athletics
,
Backyard Court
,
Basketball Court
,
Basketball Court Construction
,
Construction
,
Court
,
Customized Court
,
Game
,
Gym
,
Half Court
,
Home Court
,
Home Gym
,
indoor basketball court
,
Indoor Court
,
indoor court construction
,
Multiplie Sports
,
Outdoor Court
,
Sport Court
,
Sport Court Construction
,
Sport Court North