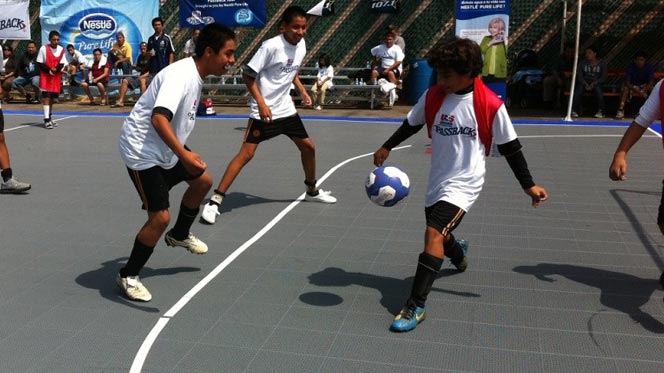 A lot of people don't consider the brain to be a sports accessory, but imagination can go a long way towards having fun. You can use equipment lying around, everyday items in the house, or even your own body and make up a new game. Just a few minutes of planning can prevent the few sentences that each parent dreads hearing the most. 
It's too hot outside! There is nothing to do! Sound familiar? Every kid has come up with an excuse for boredom during the summer. Here are ten ideas to excite your family!
4-Squares.

The goal is to keep the ball moving with constant passing between four squares. All you need is a ball and some chalk or way to outline your squares.
Balloonist.

All you need is two teams (number of members is flexible) and a balloon. The goal is to keep it up in the air.
Arbor Ball.

You need a grassy, tree-filled area for this. Teams of up to 5 members punt the ball through the trees into their opposing side's goals. 
Yoga Ball Hit.

It's basketball with a yoga ball, so a lot of bouncing and perhaps a hula hoop can be attached to a tree or used as a hoop.
Starplay.

The aim is to throw balls into circle shaped apparatuses for points. This can be done with one to multiple players, and with whatever buckets or cups that are nearby.
Phasketboot.

Basketball, football, and ultimate Frisbee fused together. A collaborative game that can be worked out and determined by each group. 
Plush-Bouncing.

Take a soft plush cube, and keep it in the air longer than your opponent by hitting it against other surfaces/objects. 
Luckchase.

Chess, but determined with dice on how many moves that can be made. 
Flog Games.

A series of five short games, kind of like a backyard mini Olympics. Games can be swapped and changed, altered, or created based on the group of players.
Cash Money Ball.

Each team has a 'banker' or goalkeeper that they aim to get the ball to in a hula hoop on the opposing team's side.
These ten are just the tip of the iceberg. Our source at the end of this article and a quick Google search will lead you to a treasure trove of ideas on how to get started. If you need balls or other sports accessories, Sport Court North's Fun Packs are a great item to get games started!  We also specialize in sporting system/surface installation. No matter where you play, it's time to beat the boredom with a little imagination, today! Sounds like a smart and fun way to spend the season!