Owning a trampoline is a great activity for kids of all ages to enjoy during the summer. Although it is a great outdoor activity, a traditional trampoline can come with potential injuries. Buying a springfree trampoline is a much safer option, here is why:
The net– The safety net on a Springfree trampoline has ninety attachment points to ensure that there is no way that the user could fall out from underneath the net. The net can only be fitted by putting it through the rods to ensure maximum safety.
No hard metal frame– Even though there may be a net on a traditional trampoline, you could still fall and hit the hard metal frame that goes around the trampoline. On a Springfree trampoline, there is no metal ring, so if you fall, you are just being caught by the safety net.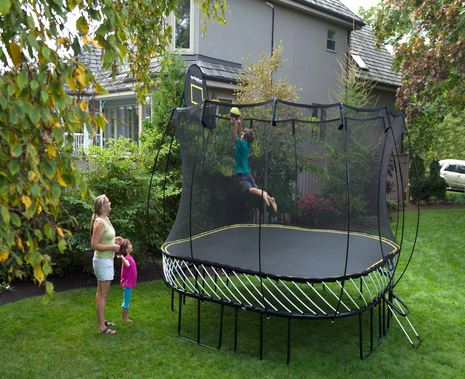 Poles are curved– The poles on a springfree trampoline are curved whereas on a traditional trampoline poles are perpendicular to the ground. The curved poles are much safer because if a child falls into the net, they will not hit any hard poles. Even if you were to make contact with the pole, its range of motion has much more support than a blunt pole flush with the ground and injuries are much less likely.
It's Springfree!– On a traditional trampoline the metal springs are protected, but there is still a chance that you could get your leg stuck between the springs leading to painful pinches, scratches, or worse injuries like broken bones. On a Springfree trampoline, there are no springs around the the top of the trampoline, so there are no holes to fall through.
Not only will your Springfree trampoline add lasting fun, but it is a much safer alternative to traditional trampolines! Sport Court North is committed to providing a high quality safer trampoline alternative for your family. Contact us today!